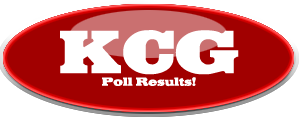 O
ur recent poll asked if KCG should start created guides for older games, and the results are in! According to poll participants, 88% (145/163) want us to create the guides, and 12% (18/163) do not want us to. I'll discuss (What I think are) the reasons as to why you all picked what you did.
We Should Create Older Game Guides:
With the rise of gaming sites, including features exactly like or similar to those on KCG, the extra edge is needed to keep your site above the rest. Many sites have also been around longer than KCG, meaning that they have guides for older games- something we don't have. In order to fill in those holes, we should match our competition with equally as good or greater features that them. Creating guides for older games is the first step.
We Should NOT Create Older Game Guides:
KCG is already lacking with recent updates on the badges and challenges, so worrying about things from the past will only drag us even more. Most users already go to other sites for olders guides, and including them here will only take away from our posts on recent games. The best option is to focus on the present, and not worry about the past.
W
hich ever you felt was the stronger argument is your own buisness, but KCG will probably try to get an occasional older game guide out from time to time. I'll work on making jobs availuable for the position of creating guides for older games- in the mean time, vote in our poll "
Should KCG have music?
". Should KCG provide its users with modern day hit music- or should we remain in our state of silence, users relying on their own music? Express your opinion and be sure to vote, as that's a major poll.
Thanks for reading and voting in our polls!